Visual Arts Showcase presented by Globe Platinum
HENRIELLE BALTAZAR PAGKALIWANGAN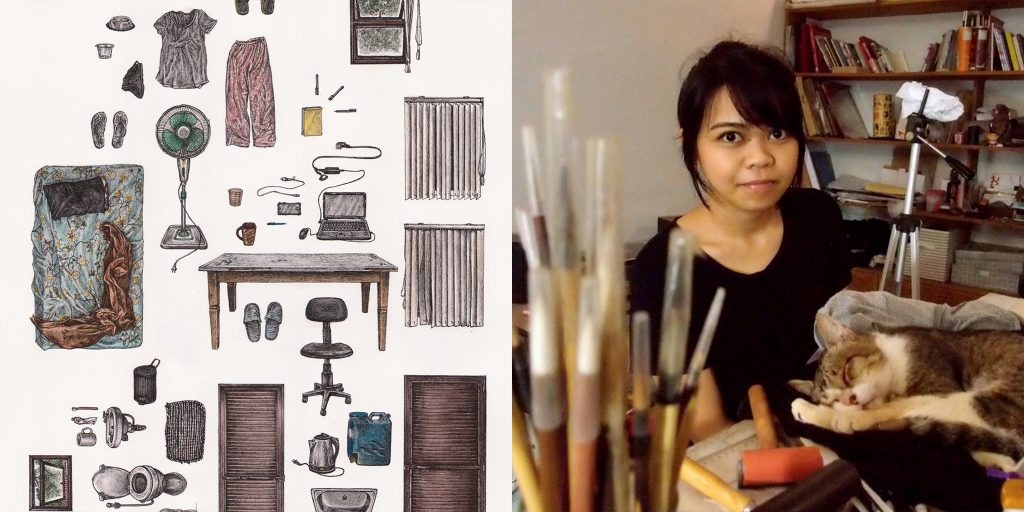 Henrielle Baltazar Pagkaliwangan (b.1994) explores stories behind the mundane and indispensable objects of everyday life as a means to examine Philippine history and material culture. Drawing from taxonomical illustration, she documents personal and historical narratives through prints and drawings.
Pagkaliwangan graduated magna cum laude from the University of the Philippines College of Fine Arts (Major in Studio Arts – Painting) in 2015, where she also received one of the Department of Studio Arts Outstanding Thesis Awards for her undergraduate thesis, Taxonomy Of Things. She won the grand prize of the Don Papa Rum Art Competition 2017, which included a one month residency in Florence, Italy. Her work has been exhibited in solo and group exhibitions in the Philippines, Indonesia, and Taiwan.
---
JOMIKE TEJIDO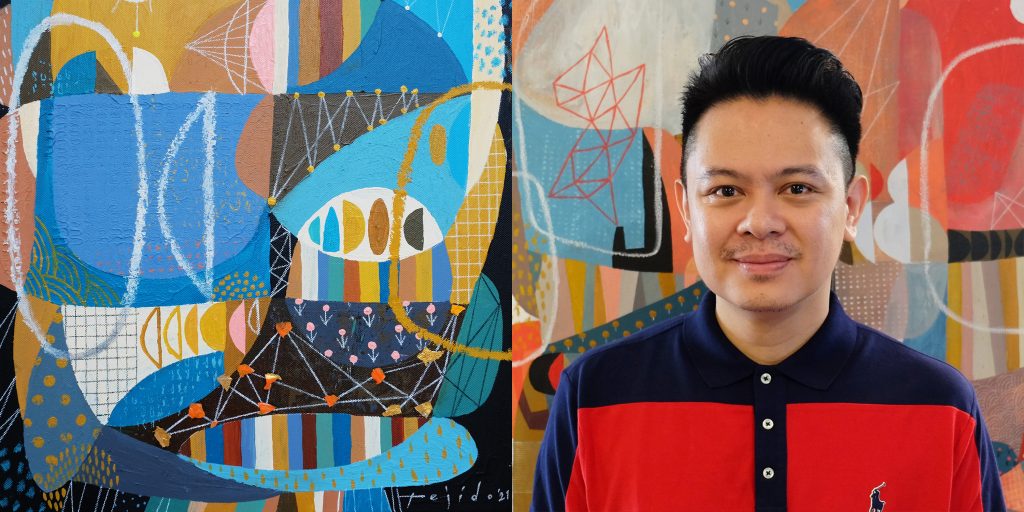 Jomike Tejido (b. 1982) merges his background as an architect and as an illustrator in creating works that explore perception through materiality, forms, color, and medium. His works are heavily influenced by abstraction and architecture, particularly the Bauhaus movement, which was influential in modernist design.
Tejido received his degree in Architecture from the University of Santo Tomas and was a finalist at the AAP Semi-annual Abstract Art Competition (2016); Maningning Miclat Painting Competition (2006); and Shell National Students Art Competition (Sculpture, 2002). His works have been exhibited extensively in art stages and institutions such as the UP Vargas Museum and the Cultural Center of the Philippines; and in exhibitions abroad, such as France, Japan, and the USA.
---
YVONNE QUISUMBING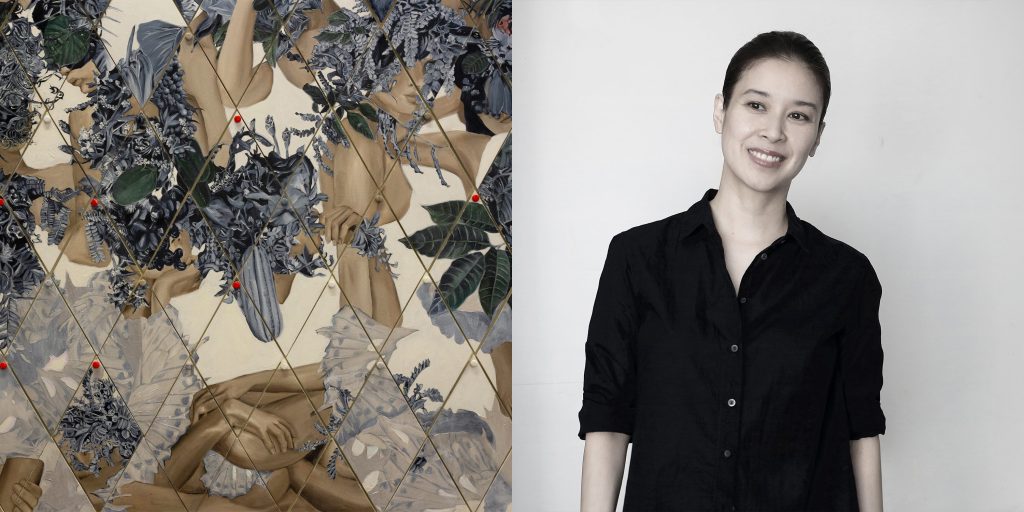 Yvonne Quisumbing (b. 1975), a multimedia artist based in Cebu, who has studied design and film, and is currently completing her MFA.
She gained international recognition in the field of fashion, representing the Philippines at the Concours de Jeaunes Creatur de Monde in Paris in 2001 and 2005 and the Japan Airlines Award for the Makuhari Asian Fashion Competition in Osaka (1999). She also won the Grand Prize in the Philippine Fashion and Design Competition for Apparel (2001) and Accessories (2005).
Her first solo presentation, Infernal Desire Machines (2005) explored the breadth of her skills with a dynamic fusion of fashion, sculpture, and painting to create wearable and interactive art. More recently, her focus on her painting practice continues to carry elements from her 20 years in fashion, evident in recurring motifs such as masks and headgear dappled with flora and fauna.
---
A Focus on Pottery presented by BPI
JON & TESSY PETTYJOHN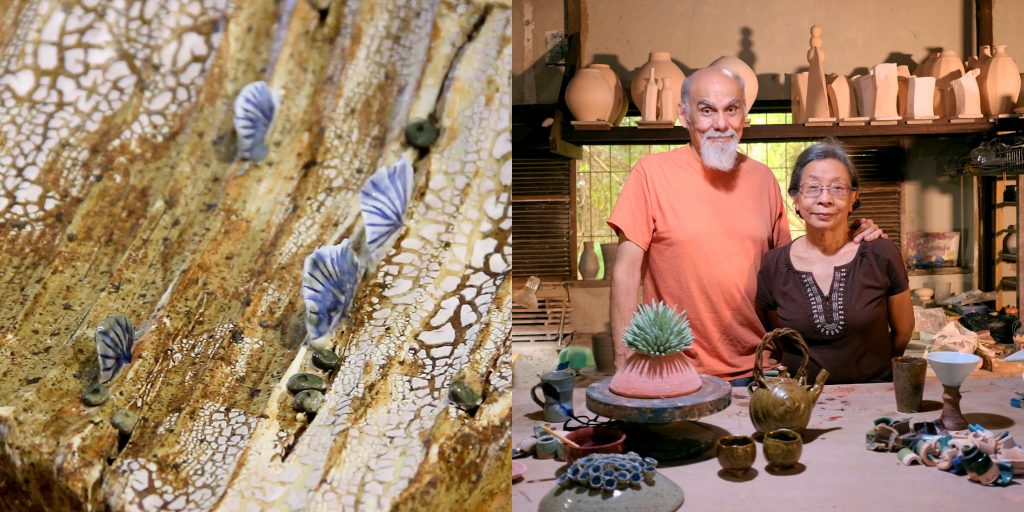 Jon Pettyjohn (b.1950, Okinawa, Japan), is considered a pioneer of contemporary Philippine ceramics. For the past 38 years, he has worked passionately in the realm of high-fire Asian-style ceramics. Although his works are mostly functional, he also sometimes explores the boundaries between the utilitarian and the sculptural, which he strongly feels are of equal importance. The exploration and use of indigenous natural materials such as clay, stone and ash for ceramics are among his major preoccupations. Since 2000, he has concentrated on woodfiring using Anagamas (cave kilns) known for their rich, natural glaze effects.
From a handful of contemporary potters in the 1970's, the ceramic scene has grown exponentially in part due to the Pettyjohns' influence on a new generation of clay artists many of whom have been their apprentices or students.
Tessy Pettyjohn (b.1948) is a renowned artist of Philippine pottery, clay art, and sculpture. Starting her craft in the late 1970s, she has had many shows both here and abroad in her long career. Although she has retired from teaching pottery, she now concentrates on doing her own work for exhibits at her Laguna workshop studio. She continues to explore the use of indigenous Philippine clays, pigments, and minerals for making high-fire ceramics and glazes. Tessy and her husband Jon are at the forefront of ceramic arts in the Philippines. They have developed over many years, pottery masterpieces which focus heavily on the use of uniquely Filipino materials.
Credits: Ocula & The Artling
---
JOEY DE CASTRO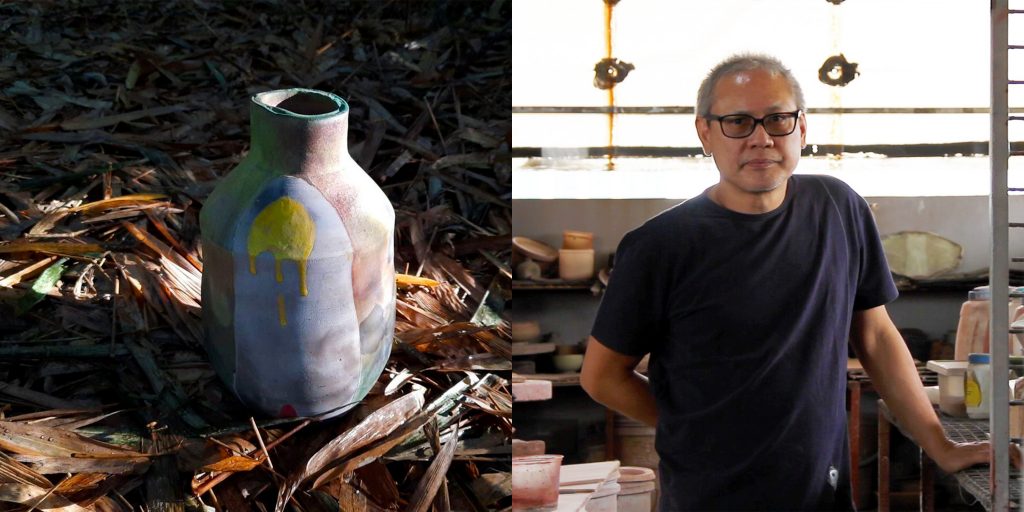 Joey de Castro's interest in pottery began in 2003 while searching for ways to showcase his collection of cacti and succulents. A photographer by profession, de Castro sought to extend his visual style and artistic expression through the creation of hand-crafted vases to house his plants.
He eventually found his calling in what began as a hobby, prompting him to put up his own pottery kiln and workshop. His passion for ceramic arts has led him to progress in form and concept in his works which range from the functional (platters, serving bowls and vessels) to the decorative (sculpture).
As a full-fledged member of the pottery community, Joey went a step further and decided to set up the first pottery-focused gallery in Manila, Sierra Madre Gallery, to serve as the "home of ceramics" in the Philippines. Sierra Madre gallery serves as a venue for displaying the works of Filipino and Southeast Asian potters, as well as an educational center for the ceramic arts.
Credit: Philux
---
Musical Performance
OVERDRIVE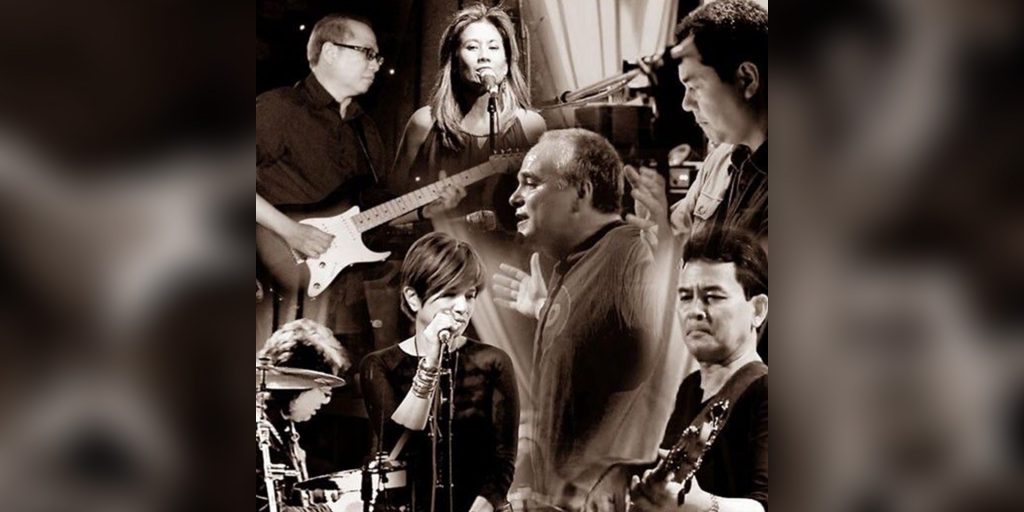 Overdrive first hit the local scene in the 1980s when a group of college graduates from Ateneo, La Salle, and San Agustin decided to try their hand at performing to live audiences. Initially starting with a repertoire that was a mix of pop and rock staples from the 70s and 80s, the band eventually focused on New Wave. Starting out in little-known joints in Quezon City, the band moved on to performing regularly at Makati's then top live performance venues, such as Tavern on the Square, playing songs by The Police, Tears for Fears, Simple Minds, The Cure, Dire Straits, and U2. Some highlights in the band's history include playing at the first anniversary of the EDSA People Power Revolution, and the release of its original song, Million Miles Away, an 80's radio favorite, recently used in the score of Kwaresma, an Erik Matti film.
In its present incarnation, Overdrive's members include vocalists Louis Ramirez, a former race car driver, and his wife Sheila; crowd draw Iwi Laurel, who joined the band when it regrouped in 2002, guitarist Anton Periquet, bassist Dennis Mabanta, keyboard legend Wowee Posadas, drummer Bennii Obana, and sound engineer Albert Godinez, the band's original drummer. Their current repertoire is a mix of 70s to 90s pop rock staples, with U2 being a crowd favorite. Overdrive has a loyal following that comes to see them perform in their favorite music venues of 19 East and Strumm's.