Special Edition Exhibit: "Time Capsules" by Anna Bautista (@annabautiportfolio)
Presented by Globe Platinum
Anna Bautista (b.1997) is a Manila-based visual artist whose works tackle the concept of time, culture, and philosophy, and how these elements are interlinked and constantly respond to each other.
Her work is marked by painterly brushstrokes, and she describes her art style as the application of patches of color that build up to a bigger picture, similar to her view of life as an amalgamation of incremental moments and experiences that make up time.
Since Bautista's first solo exhibition in 2019, she has been continuously showing her work in solo and group exhibits around the Philippines and just recently, in Indonesia.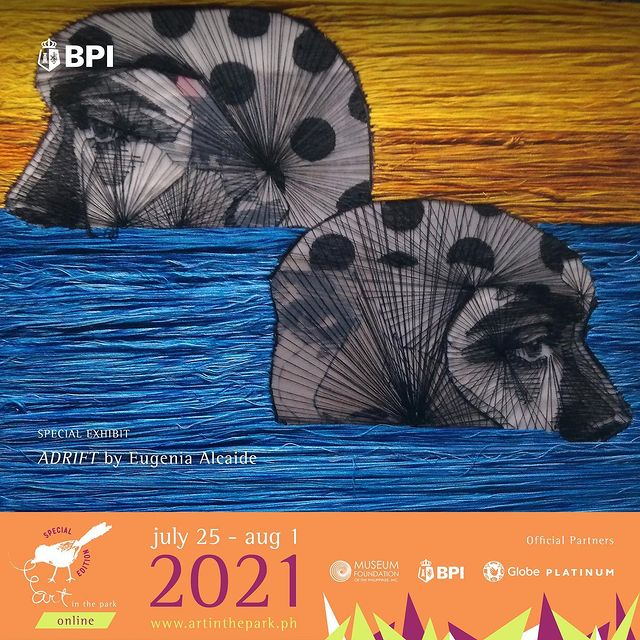 Special Edition Exhibit: "ADRIFT" by Eugenia Alcaide (@eugeniaalcaide)
Presented by BPI
Eugenia Alcaide is the granddaughter of a seamstress, the daughter of a soprano, and the mother of a very cute boy.
Through her pioneering techniques in layered threadwork, Eugenia has stitched out a unique niche in the landscape of modern art.
It was her father, Noel, who convinced Eugenia to bring her work out to the world.
And it was at Art in the Park almost a decade ago where the world first saw thread expressed as never before.
Now, the world will see an entirely new vision in threadwork.
At Art in the Park 2021, Eugenia Alcaide reveals an ocean of surreal, electric color.
This is ADRIFT.